Home Departments List

Department of Geology
Department of Geology (Established in : 1963)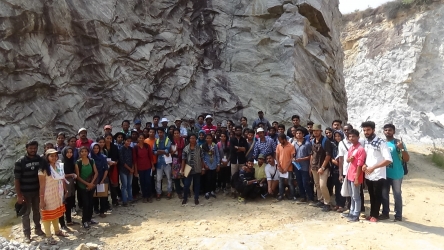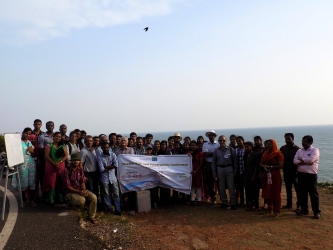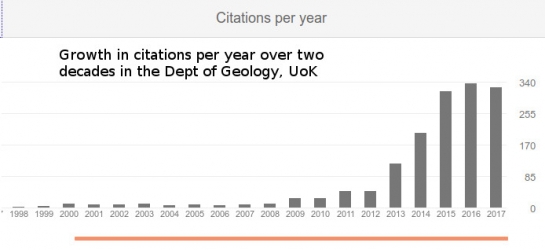 The Geological Society of India publication 'Landslide Atlas of Kerala' authored by Dr KS Sajin Kumar of the Dept of Geology, University of Kerala and Dr Thomas Oommen of the Department of Geological and Mining Engineering & Sciences, Michigan Technological University, Houghton, USA was released by Dr Sreekumar Chathopadhyay who handed over a copy to Dr PK Thampi on 19 September 2017 in the department.
An MOU was signed by the Department of Geology with the Department of Geological and Mining Engineering and Sciences, Michigan Technological University, Houghton, USA. The MOU will be in force for five years from 19 September 2017. Exchange of academic and research staff, exchange of students, and development of special projects come within the ambit of this MOU.

When established? The Department of Geology, University of Kerala, India was established in 1963. This 55-year old department has nine faculty members and one UGC Emeritus Fellow. The department is currently in the fifth year of the second phase of the University Grants Commission's Departmental Research Support (UGC DRS Phase II 2013 to 18). The quantum of support is Rs.67 lakhs. Download a 1-page printable profile of the department pdf

Location: COORDINATES: 8 33'56.9226" 76 53'13.5996" The Dept of Geology is located close to the main gate of the University Campus at Kariavattom, in Trivandrum, Kerala, India, 15 km north of the city centre of Trivandrum. It is housed in the ground floor of the Science Block 1. Click here for the map of the Univ of Kerala's Kariavattom campus (courtesy IQAC). The department can be reached by buses that ply frequently between Trivandrum and Attingal, Kollam etc from the Central Bus Station or the Railway Station. Download a route map here or see online in Google maps.

Research output: The department has an H-index of 21 and an i-10 index of 48 on 2 December 2017, based on Google citations. Based on the publications in 2016, the Department of Geology has the second highest total impact factor in the University of Kerala, after the Department of Chemistry (see the IQAC report).
Labs: AAS (GBC), UVVIS Spectroscope (Systronics), AMS (Anisotropy of Magnetic Susceptibility), chemical lab with fume hood, GIS lab [QGIS, ArcGIS], Laboratory of Earth Resources Information System (LERIS: a joint ISRO-University of Kerala initiative), Petrography, Thin sectioning lab, Museum. The analytical capabilities of the different departments on the campus can be found in this document pdf. Access to the Sophisticated Instrumentation and Computation Centre (SICC) gives added analytical support to the research in the department. Website

Access to journals: Through the UGC-Infonet consortium access to archival as well as current issues of most geology journals is available to students and faculty (needs IP authentication). Currently there is no access to Geoscience World consortium journals like Geology, Bull Geol Soc of Am, etc. Premium databases like of Web of Science are also accessible.

Alumni: The Dept of Geology values its alumni, and we whole heartedly welcome you to your alma mater. The students and faculty would be delighted host you and also possibly listen to you and learn from you. Please take a look at the online database of alumni and | update your details here |

Graduate attributes: Watch video prepared by the IQAC
Centres: The Centre for Geoinformation Science and Technology (CGIST) is a centre set up by the faculty of the Dept of Geology and functions within the Kariavattom campus of the University of Kerala. It is now headed by Dr Rajesh Reghunath, Asst Professor in the Dept of Geology. The Centre with a corpus of Rs1.45 crores in 2008, and was subsequently upgraded as the Inter-University Centre for Geo-spatial Information Science and Technology with an outlay of Rs.2.62 crores.

Internships: The Department of Geology hosts summer interns as well as other short-term interns. For internships in landslide research, GIS, remote sensing contact Dr KS Sajin Kumar; for GIS and water resource management Dr Rajesh Reghunath; for metamorphic petrology and crustal evolution studies, Dr E Shaji, for soil chemistry Dr Jyothikumari and for Tertiary sediment studies Dr Vishnu S Mohan (post-doctoral fellow). Interns are welcome to contact the faculty directly over email or through the Head of the Department. The department also encourages its MSc students to seek 2-month long summer internships. The 2016 destinations were NGRI, WIHG and IITM, while 2017 destinations are Presidency University Kolkatta (Prof Sankar Bose), BSIPS Lucknow (Dr Binita Phartiyal), IIST Trivandrum (Dr Rajesh VJ) and CGWB (Sreenath G).

Academic audit: Read the expert report after academic audit of the department in this IQAC document . Online data docket for compilation of faculty details, maintained by the IQAC, is accessible here . This requires login with uname and pwd.
Subscribe to the Department's Youtube channel to get the latest vidoes of events in the dept. Go to Google Photos for the latest pics of events.
Sexual harassment and internal complaints committee: The University of Kerala's Internal Complaints Committee and Cell to Combat Sexual Harassment is a combined body to attend to grievances of all in the University (students, teachers, staff etc.), and has the sanction of the Vice-chancellor. All instances of sexual harassment and abuse can be reported to the committee, The UO sanctioning the committee is UO No Ad.Misc.3/ICC/8770/2016 dated 26-10-2016 and can be downloaded here page 1 & page 2.

Latest news:

Second Erudite scholar-in-residence lecture by Prof William White of Cornell University Ithaca, 9 to 13 Oct 2017. The schedule is listed below. Downloadable brochure pdf

Oct 9 14:30 at Dept of Geology, University of Kerala Prof William White: Introduction to the Tools of Mantle Geochemistry (provides a useful introduction to trace element geochemistry and radiogenic and stable isotope geochemistry).
Oct 10 10:30 Dept of Geology, University of Kerala Prof William White: Public lecture on Geochemistry in Everyday Life.
Oct 11 10:30 Dept of Geology, University of Kerala A. Prof William White: Probing the Earths Deep Interior Through Geochemistry (tools introduced in the first talk along with geophysics is used to describe the current view of the chemistry and structure of the mantle, along with some inferences about accretion history).
B. Ms Seema Kumari, IIT Kanpur: Open system models of isotopic evolution in Earths silicate reservoirs: Implications for crustal growth and mantle heterogeneity.
Oct 12 11:00 at SN College, Varkala: Prof William White: General introduction to REE and trace elements, Sm/Nd & Lu/Hf isotopes and continental evolution
Oct 13 10:30 at NCESS Trivandrum : Prof William White: Sediment subduction vs. sediment assimilation and magma genesis in the Lesser Antilles Island Arc.

PAST EVENTS
March 29 to 31, 2017 Disaster Risk and Vulnerability Conference - III (DRVC2017) website
Feb 10 to 12, 2017 Field Techniques in Geological Mapping for BSc Geology students of Kerala pdf

March 22 to 24, 2017 UGC SAP Phase II conference: Shear Zones and Crsutal Blocks of Southern India -- IV download proceedings volume here

GIAN cancelled course brochure online here download pdf
International Association for Gondwana Research Conference 18 to 22 Nov 2016 was organized by the Dept of Geology, in association with IAGR, IGCP592 and UGC SAP

Contact:
Dr AP Pradeepkumar, Head, Department of Geology, University of Kerala, Kariavattom Campus,
Thiruvananthapuram 695 581, India Phone: 0091-471-2308403
Email: geologykeruty@gmail.com; geo.pradeep@keralauniversity.ac.in
Yuseph MA, Administrative Officer Email: maybpo@gmail.com
---

Erudite scholar talks: sponsored by the Kerala Higher Education Council Sept 18 to 22, 2017 : Prof Thomas Oommen, Michigan Technological University, USA
Published On : 2017-09-24 | Last Updated On : 2017-09-27 22:21:41

---

The Geological Society of India publication 'Landslide Atlas of Kerala' authored by Dr KS Sajin Kumar and Dr Thomas Oommen of the Department of Geological and Mining Engineering & Sciences, Michigan Technological University, Houghton, USA was released by Dr Srikumar Chattopadhyay who handed over a copy to Dr PK Thampi on 19 September 2017 in the department. News can be read here https://goo.gl/Q8C2cJ
Attachment 1 Attachment 2
Published On : 2017-09-24 | Last Updated On : 2017-09-24 15:30:21

---

The Kerala State Higher Education Council sponsored Erudite Scholar-in-residence program was conducted in the department from 18 to 22 Sept 2017. A series of expert talks, discussions with research scholars and faculty were conducted by Dr Thomas Oommen, Associate Professor Geological Engineering and Affiliate Associate Professor Civil Engineering, Michigan Technological University, Houghton, USA http://www.geo.mtu.edu/~toommen
Attachment 1
Published On : 2017-09-24 | Last Updated On : 2017-09-24 14:55:07

---

Congratulations to Arun Gokul (PhD scholar) for getting selected to the MECL (June 2017). Congratulations to Manju S, Sr Geologist, GSI Nagpur and alumnus of the Dept of Geology on being awarded the National Geoscience Award 2016. She is the second alumnus, after Dr Soney Kurien (2006), to be awarded so. The award was presented to her by the President of India at a function in New Delhi on 10 April 2017 see news. Congratulations to Arun Vivek and Varun S of S4, MSc Geology for completing the 6th Student Himalayan Exercise Tour (5 to 17 March 2017) in Nepal Himalayas lead by Prof Yoshida and professors from universities in Nepal.
Published On : 2017-09-24 | Last Updated On : 2017-09-24 14:23:22

---

Induction program for new MSc students on 14 Sept 2017 at 10:30. Chief Guest: Dr Krishna Prasad Kurup, Campus doctor, UNiversity of Kerala
Attachment 1
Published On : 2017-09-14 | Last Updated On : 2017-09-24 14:46:54

---

Arathi G Panikker bags the first rank in MSc Geology 2015-17 batch.
Published On : 2017-07-08 | Last Updated On : 2017-07-08 12:35:42

---

PhD open defense of Manju.S., Geologist GSI on 14 July 2017 at the Dept of Geology, University of Kerala at 14:00. Topic: AN INTEGRATED STUDY ON WATER ENVIRONMENT AND SUSTAINABLE DEVELOPMENT OF AYIROOR RIVER BASIN, SOUTH KERALA, INDIA. Expert:Dr. C. Krishnaiah Professor, Department of Marine Geology, Mangalore University Supervisor: Dr S Anirudhan, Prof and Head (Retd.)
Published On : 2017-07-08 | Last Updated On : 2017-07-08 12:27:26

---

The library, labs, researchers room and the seminar hall of the Dept of Geology have undergone a face lift in May 2017. New vitrified tiles have been laid. Four Carrier air-conditioners now cool the seminar hall.
Published On : 2017-05-26 | Last Updated On : 2017-07-08 12:34:20

---

Dhanil Dev SG successfully defended his thesis 'Petrology and tectonic setting of charnockite and associated rocks of Kasaragod district, Kerala, India' on 25 May 2017. Dr. HT Basavarajappa of University of Mysore was the Chairman.
Published On : 2017-05-26 | Last Updated On : 2017-07-08 12:34:26

---

Arun Vivek and Varun S of S4 (2015-17) qualify for interview in AMD (17 April 2017).
Published On : 2017-04-16 | Last Updated On : 2017-05-26 11:44:26

---

2017 summer internships: MSc S2 students Anjana Mathew and Parvathy have been selected for IASc Summer Internships with Dr Binita Phartiyal of BSIP, Lucknow and with Dr Sankar Bose of Presidency University, Calcutta, resp. They will start the internships on 15 April 2017. Other internship locations are CGWB TVM, Landuse Board TVM, National Bureau of Soil Survey and Land Utilisation Planning Nagpur and IIST TVM.
Published On : 2017-03-13 | Last Updated On : 2017-05-26 11:44:32

---

Dr Vishnu Mohan has joined the department as the first KSCSTE Post-doctoral fellow in the history of the Dept of Geology, in March 2017. He had his PhD on Quaternary Climate Change from CUSAT (working at NCESS with Dr Padmalal). Dr Arun has joined a Research Associate in the ISRO MARS MOMS project. He has PhD in RS and GIS from Gandhigram Rural Institute.
Published On : 2017-03-13 | Last Updated On : 2017-05-26 11:44:36

---

Dept of Geology participated in the Career Guidance Exhibition at Central Stadium Trivandrum (10 am to 6 pm) organized by the Social Welfare Department of Govt of Kerala on 9 and 10 Feb 2017.
Published On : 2017-02-09 | Last Updated On : 2017-05-26 11:44:42

---

Field Workshop for BSc students 10 to 12 Feb 2017 see https://drive.google.com/file/d/0BzyG6tUTBkTLa2kxbWZvZ3NEc1E/view?usp=sharing
Published On : 2017-02-09 | Last Updated On : 2017-05-26 11:44:48

---

Post-doc Research Associate walk-in interview on 8 Feb 2017, Dept of Geology, for Mars Image Processing in ISRO-sponsored project http://keralauniversity.ac.in/pdfs/jobNoti/geology_notfn1484989837.pdf ---------------------------------------- http://keralauniversity.ac.in/pdfs/jobNoti/geology_applitcn1484989851.pdf
Published On : 2017-01-22 | Last Updated On : 2017-05-26 11:44:53

---

Manju S, Sr Geologist, GSI Nagpur and alumnus of the Dept of Geology awarded the National Geoscience Award 2016.
Published On : 2017-01-20 | Last Updated On : 2017-05-26 11:44:58

---

IUAC -- UNiv of Kerala joint Acquaintance Program on IUAC facilities for accelerator-based research in India slated for 22 Dec 2016 is now postponed to Feb 2017. Faculty: Dr Kanjilal, Director, IUAC; Dr Sundeep Chopra, Sci G, IUAC and Head, Pelletron Group; Dr S Balakrishnan, Pondicherry University
Published On : 2016-12-06 | Last Updated On : 2017-05-26 11:45:04

---

Dr Y Anilkumar, formerly Senior Geologist, Geological Survey of India has joined the Dept of Geology as Asst Professor on 23 Nov 2016. An alumnus of the department, Dr Anil holds a PhD in Metamorphic Petrology under the supervision of Dr SC Patel, IIT Mumbai.
Published On : 2016-12-06 | Last Updated On : 2017-05-26 11:45:09

---

Aju CD has joined the Universidad de las Palmas de Gran Canaria, Spain on 5 Dec 2016 on an Erasmus Mundus scholarship for year to do part of his PhD research. He is the first to get this scholarship from Univ of Kerala.
Published On : 2016-12-06 | Last Updated On : 2017-05-26 11:45:16

---

GIAN course on Geochemistry and Geochronology by Prof Dr Ernst Hegner, LMU Munich 15 to 25 February 2017: Registration for the course is open after online registration at the GIAN's IIT KGP website http://www.gian.iitkgp.ac.in/GREGN/index
Published On : 2016-10-12 | Last Updated On : 2016-12-06 23:01:26

---

MSc Geology 2016-18 selected students and their BSc colleges "Asha Merin Jolly: Christ" "Anjana Mathew: Christ" "Akshara K Sajan: Nattakom" "Parvathy MS : Varkala" "Aravind P : Uni College" "Geethu Prasad: Nattakom" "Deepchand V: Kasaragod" "Bincy S : Varkala" "Saranya R Chandran: Uni College" "Aswathy S Nair : Uni College"
Published On : 2016-08-17 | Last Updated On : 2016-12-06 23:01:33

---

MSc Geology 2016-18 admission rank list published. Accessible through the link "Announcements" in the side menu
Published On : 2016-08-08 | Last Updated On : 2016-08-08 22:34:07

---

Amal Dev J of S4 MSc Geology has qualified for the UPSC Geologists Exam interview, to be held sometime in August 2016. Congratulations Amal! He has also secured the I rank in MSc Geology (August 2016)
Published On : 2016-07-30 | Last Updated On : 2016-12-06 23:01:39

---

Dr KS Sajin Kumar leaves from the Dept of Geology for his Raman PDF in Michigan Technological University, USA on 28 July 2016. Bon voyage!
Published On : 2016-07-27 | Last Updated On : 2016-12-06 23:01:47

---

URKUND plagiarism detection software is now available for students and faculty of the University of Kerala. For details check under the tab 'Resources'.
Published On : 2016-06-10 | Last Updated On : 2016-12-06 23:01:53

---

Mid-semester exam dates: S2 and S4 Geology announced [][][][][][] 20.06.2016 (Monday) GOL-521 Sed & S Petrology 21.06.2016 (Tuesday) GOL-522 Struc Geology 22.06.2016 (Wednesday) GOL-523 Engg Geology 23.06.2016 (Thursday) GOL-524 Met Pet 24.06.2016 (Friday) GOL-505 Env Geology ****************************************** 21.06.2016 (Tuesday) GOL-541 Hydrogeology 22.06.2016 (Wednesday) GOL-542 Economic MinDep 23.06.2016 (Thursday) GOL-509 Pet Coal Geology
Published On : 2016-06-10 | Last Updated On : 2016-12-06 23:02:00

---

Walk-in interview at the Centre for Nat Res Mgt headed by Dept of Geology faculty for PDF and JRF on 9 June 2016. See http://www.keralauniversity.ac.in/pdfs/jobNoti/noti_research_junior_fellow1464867504.pdf and contact Dr Rajesh Reghunath, Assistant Professor, Dept of Geology
Published On : 2016-06-03 | Last Updated On : 2016-12-06 23:02:08

---

LERIS lab inaugurated by Dr SN Kumar, Director, School of Earth System Sciences on 30 May 2016. The Laboratory of Earth Resources Information Systems is a joint ISRO - University of Kerala initiative.
Published On : 2016-05-13 | Last Updated On : 2016-12-06 23:02:26

---

Ms Shruti Naidu (MSc Int. Geology 4th year) of Pondicherry University's Dept of Earth Sciences has joined as summer intern, in the Dept of Geology for 2 months from 9 May 2016. She will be mentored by Dr KS Sajin Kumar
Published On : 2016-05-09 | Last Updated On : 2016-12-06 23:02:20

---

MSc S2 students Vineetha VJ and Thejasy SB and MSc S4 student Sruthi JR bag the ONGC post-graduate scholarships in Geology worth Rs.4000 per month for 2 years (May 2016). Sruthi JR and Asha G Gopal have also been awarded the Post-Graduate Indira Gandhi Scholarship for Single Girl Child (2014-16).
Published On : 2016-05-09 | Last Updated On : 2016-12-06 23:02:46

---

Latest additions to the library: Elements October 2016; JGSI November 2016
Published On : 2016-05-04 | Last Updated On : 2017-05-26 11:45:26

---